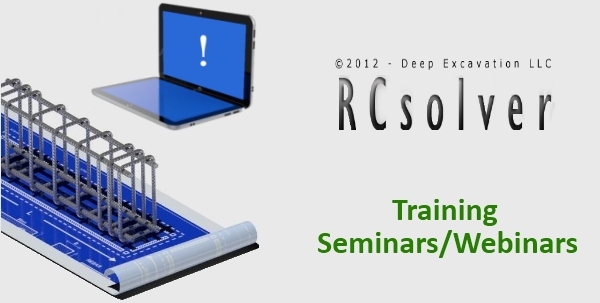 Concrete design webinar!
We value your time! Our Webinars are very useful for you to master concrete design solutions in the most effective way! Just register right now to learn more skills, get new exciting experience and feel free to share your ideas through our live webinars and training sessions.
Subscribe to the webinar today $50
Monthly webinars: Reinforced concrete design with RCsolver
Deep Excavation LLC offers an 1 hour training course on concrete design according to Eurocode 2 and 8 with the tools of RCsolver software program!
Sign up or contact us and we will inform you for the available training webinars and seminars!
An official training Certificate is provided!
Hurry up to register here or send us your request at info@rcsolver.com

E-mail List Signup
Signup to our Email List for the latest information about our products, support and more.
ABOUT DEEP EXCAVATION LLC
Deep Excavation LLC is totally involved in the development of powerful, user friendly, robust, high-quality, integrated deep excavation calculation and design software tools by offering multiple accepted design methods.
The company provides training and support to all users in order to show and explore the exciting strong features of our software. By doing this, we give the excellent opportunity for the best and adequate usage of all our modern programs.
FREE VERSION OF RCsolver - Concrete Design with EC2, EC8, and ACI 318

Get full capabiltiies with our free version of RC-Solver once you signup for our newsletter. With the free version you will have to wait 30 seconds for advertisements.

Get the free version now Advertise with RCsolver

Upgrade to the ad free version for only $150

* Direct download link is available in the second e-mail that you receive, since you verify your subscription.
Copyright © 2003 - 2023 Deep Excavation LLC. All Rights Reserved.
Web Development by RedMob